Life at the Bar – Rumen Cholakov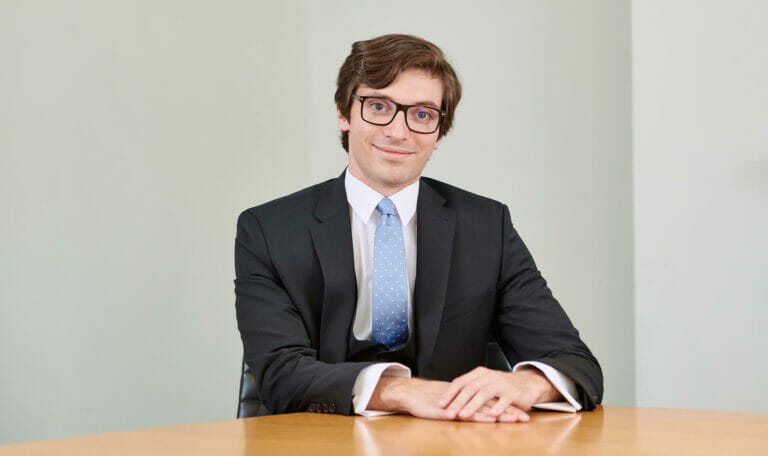 Why, How, and What Then? Three questions for a solicitor considering a career at the Bar (and their attempted answers).
Rumen studied History at university, before turning to the GDL and qualifying as a Solicitor in 2016. He was called to the Bar in 2021 following an LLM at Columbia University. At 3VB, he focuses on all core practice areas of Chambers, with particular interest in civil fraud, banking, and international arbitration.
Transferring to the Bar having previously practiced as a solicitor is a path well-trodden. What is less conventional in my case is that I was a transactional solicitor specialising in Banking & Finance matters, including leverage finance, real estate finance, direct lending, special situations, and restructuring. While is true that most transferring solicitors have some or mostly litigation experience, it is very much possible to make the jump without it. And being a transactional solicitor does equip a candidate with some strong trump cards, both when applying to the Bar and in building your practice. I have written this short piece with the intention of trying to help transactional solicitors to consider a career at the Bar.
Why become a barrister?
 The first question in front of any solicitor is, of course, why even go to the Bar? If you are pondering this question, it is very likely that you already have a successful career, are surrounded by bright colleagues in a challenging environment, and can look forward to great professional prospects. You have succeeded in the difficult process of getting to where you are, including internships/vacation schemes, applications, passing the LPC (and possibly the GDL) or the SQE, completing a training contract, and being retained by your firm (or going to another good firm). This has all led to a relative security in your life. Why would you abandon it now to jump into the unknown?
For me, there were many reasons. I am interested in the law. I like arguments and advocacy. I cherish independence. Becoming a barrister allows you to take control of your practice and career from the very beginning. In that sense, it is much more entrepreneurial. It feels as though you become a junior partner in your own law firm, and are surrounded by colleagues who are your (usually more senior) partners. This is a unique proposition, but whether it appeals to you is a question of choice. The good news is that there is no wrong decision you can make – whether you choose to remain a solicitor or become a barrister, you will have a rewarding life in the legal world.
How to become a barrister?
If you do decide that the Bar appeals to you and you would like to pursue this path, the next question is how to get there. As a transactional lawyer, your greatest asset is commercial awareness and the 'soft skills' of being able to communicate professionally, manage deals (and therefore people), and understanding the business world. The two areas where you might need to work harder are demonstrating the motivation to be a barrister, and attaining some litigation experience.
I decided that the best way to achieve the first was through an LLM at Columbia University. You might wonder why do it in the United States? The answer is that LLM programmes there are very practical. For example, I took a seminar in Appellate Advocacy with the Chief Judge of the Second Circuit and did an internship at the Brooklyn prosecutor's office, which gave me real court experience. There are LLM programmes in the UK that also could give you a similar experience and the added benefit of focusing on English law. I recommend either. Leaving the relative security of the law firm office to embark on a new academic journey demonstrates to chambers that you are serious about your intention to change career paths.
The best way to gain litigation experience is through mini pupillages. You should do as many as you can, but it is better to focus the majority on chambers in the field where you want to practice. If you want to be a commercial barrister, one mini at a criminal set and one at a family set may show that you are exploring all options to make an informed decision, but it would make sense that you do three or more in commercial chambers. Indeed, for many pupillage offers, a mini pupillage in the same set is a requirement.
You also should bear in mind that you will be applying for pupillage and therefore should not measure your experience against that of a litigation solicitor – no one will want this from you. What is important is to demonstrate that you are serious about your intentions, and you have decided to become a barrister with eyes open, knowing what the profession entails
What Comes Next?
The truth is that as I write this piece, I am yet to find out! I was offered tenancy at 3VB a couple of months ago and am due to take it up in the beginning of October. What I have discovered so far is that my prior experience has been an asset. Many of the disputes that I am involved with are based on the types of documents and transactions that I have previously drafted and managed, which means that it is easier for me to find my way around the facts. I would like to think that clients also note my previous work when instructing me and even though still in my second six, I already have had a number of interesting matters of my own. The bottom line, therefore, is that transactional experience is valuable even for practicing at the Bar, so you should use it to your advantage!