3VB & Forward Global Seminar – Dubai Arbitration Week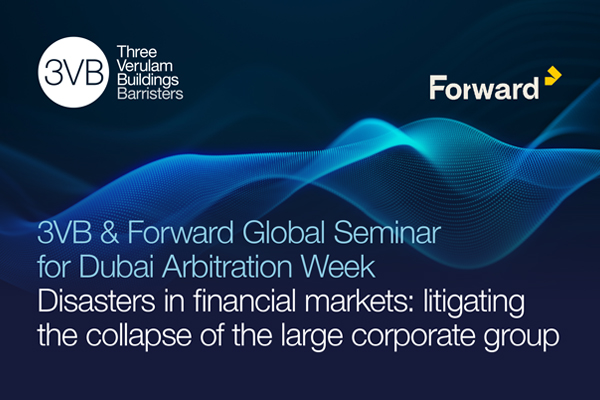 Members of 3VB & Forward Global are pleased to present a seminar as part of Dubai Arbitration Week.
Disasters in financial markets: litigating the collapse of the large corporate group
Panel 1: Sandra Holding: no support for foreign courts. Where do tribunals stand? Tom Montagu-Smith KC & Nicholas Craig KC (3VB)
Panel 2: Where do we go from here? Ancillary proceedings following a collapse. Farhaz Khan KC, Adam Temple, Ravi Jackson (3VB)
Panel 3: Investigation and reputation – practical issues in navigating a collapse. Philippe Bounader, Matthew Bell (Forward Global)
Panel 4: Enforcement, asset-tracing and security for costs – lessons from the PSC v El-Husseini litigation in the English courts. Jamie Riley KC, Anca Bunda (3VB)
Date: Tuesday 14th November 2023
Timings:
16:30-18:00 (GST)
Venue: Capital Club Dubai, Gate Village, Building 3, DIFC
Please email ccontreras@3vb.com to register.