Life at the Bar as a transferring solicitor — Calum Mulderrig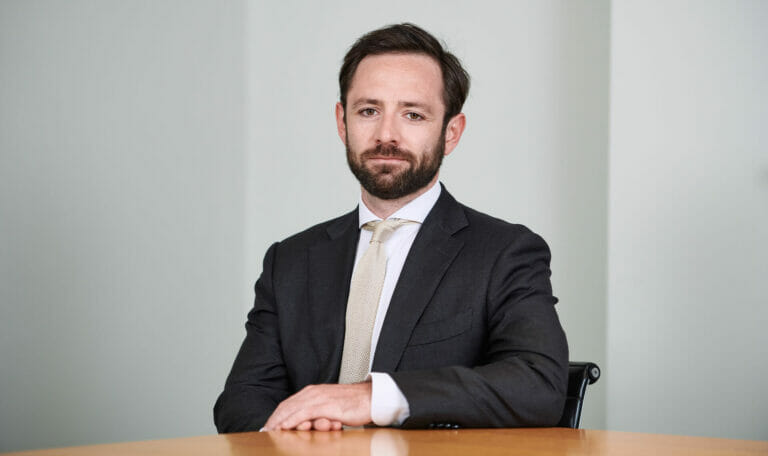 Calum Mulderrig was called to the Bar in 2019 and commenced pupillage at 3VB the same year. He studied law at university and previously qualified as a solicitor. Calum became a member of Chambers in October 2020 and is building a practice across Chambers' core practice areas and in international investment disputes.
Before transferring to the Bar, I had some insight into what life might be like as a barrister, initially from investigating careers in law as a student and then from working with barristers in my former life as a solicitor. While I had always harboured ambitions of coming to the Bar at some point in my legal career, there were three reasons in particular that I decided to make the switch, which I elaborate on below. Those three reasons can be summed up as greater independence, more chance to engage with the law and advocacy.
Like a lot of law students, I spent a long time considering whether to pursue a career as a barrister or a solicitor on leaving university. What is often difficult to know at that stage is what day-to-day life on either side of the profession is actually like. Partly due to my indecision, but mainly because I thought I would keep more options open, I opted to train as a solicitor, attracted by the security of employment, international opportunities and broader training across transactional, contentious and specialist seats. I was also conscious that the Bar seemed a more daunting prospect straight out of university than training at a solicitor's firm, although I firmly believe that my concern was overstated. The reality is that the Bar is very competitive, and it is a serious job, but the same goes for training as a solicitor. Ultimately, your motivations for a career in law, and the elements of the job that you think you will most enjoy and are best suited to, should steer you in the right direction.
Independence
For me, the first big attraction of a career as a barrister was independence. The vast majority of barristers are self-employed, and while that can bring its own headaches (such as dealing with your own tax and the slightly irregular timing of payment), these are off-set by the advantages. As a self-employed individual, you are your own boss and have much more freedom with the amount of work you take on and the amount of holiday you take. Professionally, that independence gives you a better opportunity to shape your practice through the type of work you specialise in. That freedom is relatively uncommon in other professions, where competing demands of the firm or business you work for can take precedence over your own priorities.
Independence can bring its own complications, although they are not necessarily negative. Unlike working in a firm, all the work you do as a barrister goes out in your own name, so I found when switching to the Bar that there is a very conscious sense of building your own reputation, as though you yourself are your own mini business. That is something you get used to, though I found it relatively daunting at first. There is is also a tricky balance to strike between how much work to take on and how much time to take away from work. There are lots of opportunities at the Commercial Bar and there is always a temptation to take on lots of instructions and not give yourself a proper break. However, it is possible to strike a good balance; I have found that knowing how busy you can or would like to be comes with experience, though I certainly haven't mastered that yet, myself!
The law
The second reason I was attracted by a career at the Bar was the prospect of working more closely with the law. I had enjoyed black letter law subjects at university and some of the more niche private law topics, like unjust enrichment and subrogation, because they posed difficult puzzles that fully stretched my intellectual capacity. And while I was not attracted by an academic career, I was open-minded about where that interest would take me.
What I have tended to find from my experience as a solicitor and now as a barrister is that the Bar offers far more opportunities to engage my interest in the law. That is not to say that solicitors do not carry out legal analysis, conduct legal research and give legal opinions – they certainly do. The difference is that solicitors have competing demands on their time which often take priority – in the context of litigation, that is case and client management. As a result, most law firms will seek counsel's advice on legal issues and will often formally instruct barristers to prepare an advice or opinion. Barristers do not have the same competing demands and are therefore able to spend significantly more time thinking about and researching a thorny legal issue.
Beyond legal research, the type of paperwork that barristers and solicitors deal with is traditionally different, and the balance in a barrister's workload tends towards legal drafting. While there can be some overlap, barristers draft skeleton arguments (which set out the legal argument in a claim or application) and generally draft statements of case (for example, the Particulars of Claim). Solicitors are responsible for conducting litigation, which can entail drafting a significant volume of correspondence to the opposing side's solicitors, and solicitors often take charge of assisting with the preparation of witness statements, which set out facts relied upon by witnesses in a claim.
In my time as a barrister so far, I have particularly enjoyed the technical demands of drafting statements of case, which have their own specific rules, and skeleton arguments. As an illustration, I had relatively limited opportunities to draft those documents myself as a solicitor.
Advocacy
Finally, but most importantly, I switched to the Bar for advocacy. While I think there are lots of different and personal reasons for pursuing a career as a barrister, unless you want to be an advocate, I think you need to consider very carefully if it is the right career for you. That is not to say that you should never feel nervous about public speaking – a lot of barristers do, even those with years of experience. The question is whether you enjoy advocacy and whether you want advocacy to be an important part of your job. It is possible to do some advocacy as a solicitor, but it is not a common feature – and generally arises in international arbitration matters, not before the courts. From my view, one of the great things about life as a junior barrister is the opportunity to appear on your own account in smaller cases and applications in the County Court, developing first-hand advocacy experience, while also working with and learning from more senior barristers in the higher courts.
Despite what I have said about my experience transferring as a solicitor, I would not advise anyone to qualify as a solicitor specifically with the purpose of transferring to the Bar. It might be that life makes transferring difficult, particularly if you have responsibilities that make a change less attractive as you get further into your career. If you know you want to be a barrister, you should absolutely go for it.